| | |
| --- | --- |
| | SPECIAL WHOLESALE PRICES AND ORDER CONDITIONS |
| | APPOINTED SALES REPRESETATIVE |
| | REALISATION OF CUSTOMER'S LOGO - EMBOIDERY OR PRINT |
| | WIDE STOCK AND FAST DELIVERY |
| | LONG-TERM ASSORTMENT AVAILABILITY |
| | SET FOR SIZE TESTING IN CASE OF ORDER |
---
Contact the sales representative here »
Each business demand as well as long-term cooperation is managed by appointed sales representative.
---
Professional organisation
The scope of the assortment allows us to offer a comprehensive range of clothing and accessories for use in the nature for companies and organisations whose employees are everyday in outdoor for example forest owners and their staff, companies providing forestry management, fishing companies, nature conservation organizations, forestry and fishery schools, saws etc. All these companies rely on the quality and comfort BANNER® clothing in everyday use.
In addition to product quality, such companies also require production and warehouse flexibility which our company BANNER® can offer.
Specialized retail stores
The BANNER comapny is very flexible partner for retail stores specialized in hunting and outdoor assortment. We can provide delivery speed, assortment diversity, small, medium and big quantity deliveries. We know the retail business because we run own retail shops in the Czech Republic and we can provide comprehensive advices.
Ways and options for professional organizations
We provide individual care for each business customer with the respect to individual need. Full service includes assortment selection, size testing with each person and long term cooperation in the respect to the assortment.
We are providing the service of embroidery and print of customer's logo to our products.
For a larger companies we can provide on-site product presentation with size testing for each employee.
To illustrate the possible way of clothing system of some business customer:
Individual selection of clothing - within the selected limit the employee selects the clothing from the wholesale offer.
Company set of clothing - company set of clothing for every employee with embroidery / patches of company logo or other adjustments.
The combination of each above - the selected company set of clothing and then the employees choose according to individual need for clothing within the financial limit set by the company.
Key benefits for business customers include:
The widest range of clothing for us in nature in the Czech Republic
Own development and production of clothing in the company workshop in Czech Republic
Wide stock inventory
Realisation embroidery of logo for clothes
Presentation show at the company's property
Individual adjustments and repairs of clothing
Delivery of goods for employees is divided into named packages
Illustration of emboidery realisations
We offer the application of an embroidery of company logo to our clothes. As a producer we are able to apply embroidery also to jackets and trousers with climate-membrane without any damage to waterproof functionality.
Assortment presentation - at customers' premises
As a part of the services for contractual business customers we offer the option of individual selection and size-testing of the clothing at the customers' premises. This premium service is designed to bring great comfort for business and organazation customers in a demanding clothing assortment where personal testing of more customer's employees is required.
The entire agenda and the order management are provided by the supplier - BANNER under the preceding agreement with the customer.
To arrange the details of the presentation contact us »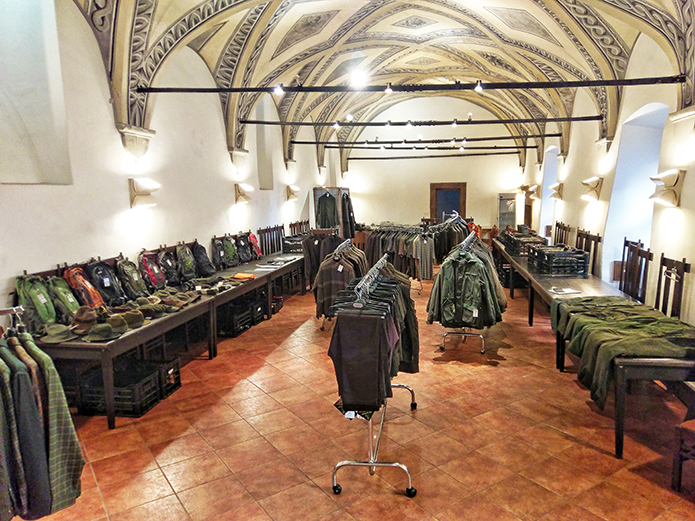 Showroom and warehouse
We gladly invite you to our showroom in Sezimovo Ústí (Vaníčkova 22, 391 01 Sezimovo Ústí, Czech Republic) where we can personally show you each product from our assortment and/or to provide size-testing for your employees (main warehouse avaliable).
To arrange the meeting contact us »